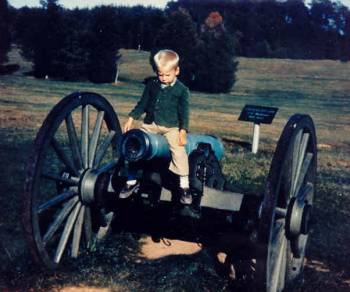 Mark inspects the ordnance, Manassas, Virginia.
Biography of Mark C. Deren
Mark Christopher Deren was born in Abington Hospital (near Philadelphia, PA) on January 16, 1960 to Mary Ann and Henry Thomas Deren. He was the sixth of seven children. His earliest memories involve standing in his crib, next to the hi-fi and listening to the newest hits from Frank Sinatra, Perry Como, Johnny Mathis, etc. At age 2 1/2, Mark was already springing off the diving board and swimming to the side of the pool. Mark and his family first moved to Ft. Meade, Maryland for two years and then to Ft. Lauderdale, Florida.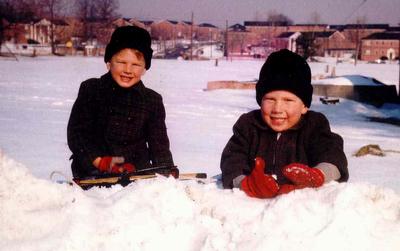 Hank & Mark Deren: partners in sport, Ft. Meade, Maryland
At age three, Mark watched the funeral procession of President John F. Kennedy in Washington, DC from the shoulders of his father Henry. "Our whole family was present for this solemn occasion," said Mark. "We went on many happy trips too, of course. Our car was often filled to the brim with kids, cruising off to some beach, park or historical destination. With seven kids in the family, plus some of the neighborhood kids, there was never a dull moment." he said.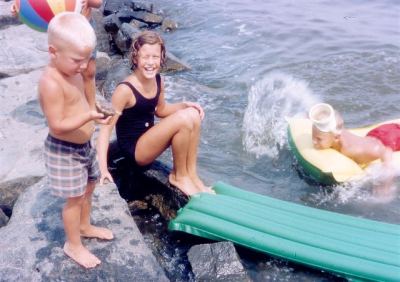 Mark (left) marvels at his first found Turtle - Annapolis, Maryland
Mark started first grade at St. Ambrose's Episcopal School (under the Palm Trees). Being slightly immature for the task, he would often escape at lunch break and go see his mom. He was a frisky kid with a tan and sun-bleached hair.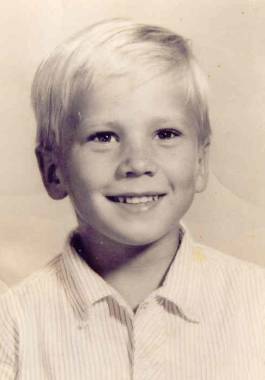 "Marky Parky" Deren, Age 5 - Ft. Lauderdale, Florida
His mother always reminded him to smile and say "thank you." Mark's father was a naval officer and stationed at Port Everglades. He was often out to sea. Mark's mom stayed at home to raise the kids. By this time, all of the newest Beatles and Beach Boys songs were streaming through the house.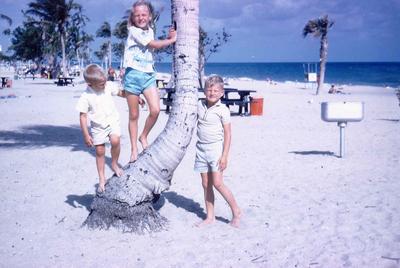 Mark (left) during his "formative years,"  Ft. Lauderdale, Florida.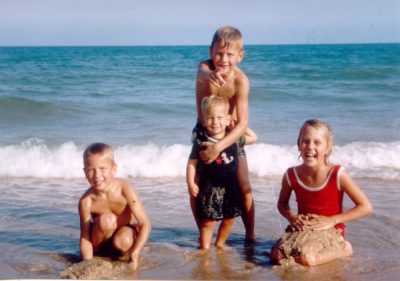 He learned at an early age that "life is a beach."
After four years, Mark's father got transferred back to Pennsylvania. "My mother drove the seven of us back from Ft. Lauderdale to Ivyland, PA in a Volkswagen bus. The journey took two days. One motel owner was so impressed with our collective charm, he let us stay overnight for next to nothing," said Mark. After they arrived back in Pennsylvania, Mark attended two years of Catholic School in Warminster, PA. The classrooms were too crowded. Allegedly, Mark spent more time watching the playground outside, than the teacher. He started fourth grade in public school, much to his relief.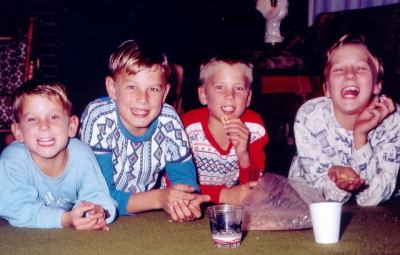 Jeff, Hank, Mark, & Nancy at the "boob tube" (TV).
Mark and his older brother Hank were inseparable. They joined the swim team at the Willow Grove Naval Air Station. Mark soon found his way to the diving board to help alleviate the discomfort of swimming in cold water. Mark's first record album purchase was "Flowers" by the Rolling Stones. He was now eight and liked the progressive rock elements of the music. Soon thereafter, he got a job at the local farm picking flowers. It was "another day, another dollar"..literally!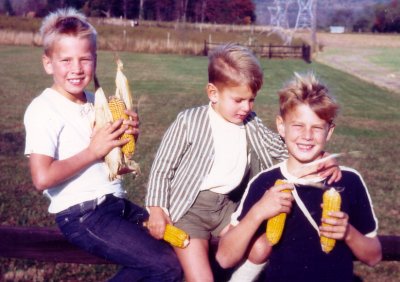 Deren brothers collect hardened cow corn to later shuck and throw at each other, Ivyland, Pennsylvania.
At age 12, Mark began as a golf caddy at the Warrington Country Club, PA. He carried large golf bags around the golf course to earn spending money. It was painful work for a small kid, but Mark knew it would help make him stronger. In his early teens, his brother Hank and he both got "off-road" motorcycles to ride on the extensive farmland trails in the area. Around this time, Mark also became a dedicated wrestler. One summer, he attended wrestling camp in Virginia to train under the Olympic Champion Dan Gable. In 9th grade, Mark was the undefeated champion of Lower Bucks County. "My mother was always there at the matches, as if she only had one kid. She gave me much attention. I could always hear her screaming from the bleachers, "Go Mark, Go Mark. You can do it!"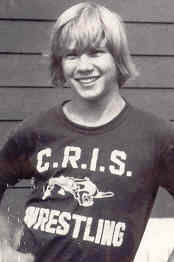 Lower Bucks County Champion (126 lbs.) 1974
Mark liked history and writing classes very much. He played many sports and listened to bands like Camel, E.L.P., Genesis, Gentle Giant, YES, PFM, along with many others. "These bands were always good for getting my adrenaline flowing," said Mark. "It was a natural way to get high." His first concert was Gentle Giant in 1974. He sneaked backstage and met the band. One week after his 16th birthday, Mark got his drivers licence. He completed the American Red Cross Senior Lifesaving courses at Council Rock High School and began lifeguarding during the summers. He also worked at the Walden Book Store and the 7-11 as a cashier.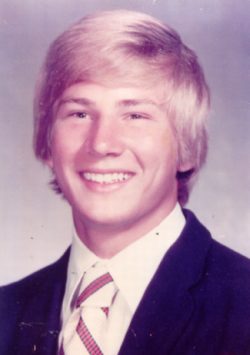 Mark's Council Rock High School Year Book photo
One day at wrestling practice, Mark did one too many push-ups and found himself crying from the pain in his arms. He was also weak and frail from "cutting weight" (dieting). He quit wrestling abruptly. On the same day he joined the diving team. Within two years of flopping on his back, stomach and face, he learned all of the dives. "No Pain, No Gain" was the motto. His efforts earned him an athletic scholarship to Rider College in New Jersey, under coach Richard Coppola. Mark studied, worked hard, dived, and enjoyed the wild ride of college life to the fullest.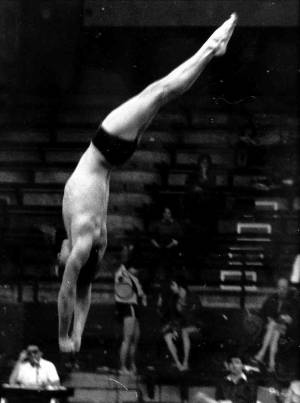 Finalist - East Coast Conference Championships, 1980
Mark's room at home was filled wall-to-wall with travel posters from foreign embassies. "I wanted to travel and become a diplomat," said Mark. A place he wanted to visit most was Australia. After one year of college, he fulfilled that dream. At age 18, he hitch-hiked completely around Australia and the North Island of New Zealand. The following year, he became NJ State Collegiate Diving Champion, thanks to the new found strength in his legs. He also travelled overland to Kodiak Island, Alaska with his college girlfriend Patricia "Pat," who he later married. "Watching soaring Bald Eagles and Kodiak Bears around a large pristine lake, surrounded by towering mountains, is an unforgettable life experience, that nobody can take away from me," said Mark.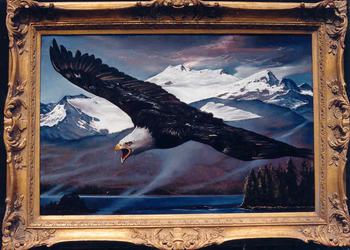 "The Pursuer" - Mark commissions R.W. Cowan's first wildlife painting.
In college, Mark was called "Hans" (The Dutch Boy), because of one particular haircut he gave himself, to help keep the hair out of his eyes while diving. In 1982, Deren graduated from Rider College (Rider University) with a B.A. in Journalism. Besides having a job at the Educational Testing Service in New Jersey, Mark also coached (with success) diving teams on both the high school and collegiate levels. After graduating from college, Mark worked as a car salesman for Ford. He got fired. He had better luck with his next job at Chrysler. After that, he worked as a travel agent at Revere Travel in Trenton, NJ. In 1985, he broke up with Pat. Feeling rather dejected, he travelled to England, Scotland and Holland to "lick his wounds." It was during a rainy, cold night while camped out "under the stars" at Loch Ness, that he decided to move to South Florida and make a fresh start. His decision was rewarded with a job that offered extensive worldwide travel and a glamorous "globetrotting" lifestyle. He got a position as business manager, photographer and correspondent to the world famous portrait painter, Ralph Wolfe Cowan. "I was equipped with sales, writing and other communication skills. However, the most important factor in getting this job was the world travel experience I had acquired during my four years of college," said Mark.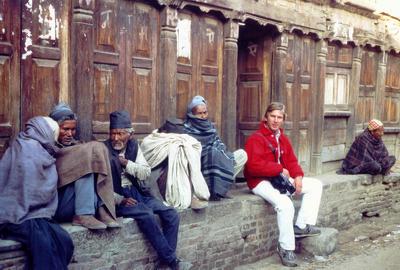 "Mark lines up for a haircut," Kathmandu, Nepal
After several years in Florida, Mark met his second wife-to-be Ingrid, who was from the Netherlands. The couple lived in Yardley, Pennsylvania for three years. On March 20, 1993, they moved to Heemskerk, North Holland. Mark attended language school for two years. The couple parted as friends in 1996. Mark remained in the Netherlands. For 17 years, he worked full-time at the busy local swimming complex "De Waterakkers." In this extensive period of time of working mornings, nights and weekends, he rescued 18 people. As in many other times in his life, Mark was "in the right place at the right time." Meanwhile, Mark wrote hundreds of press releases for musicians who appeared on his radio show. He's got four large books of newspaper clippings, that he wrote in Dutch, to prove it. Mark attends concerts regularly. He is also an avid swimmer. Mark is multi-talented, bilingual and possesses dual citizenship in both the United States of America and The Netherlands.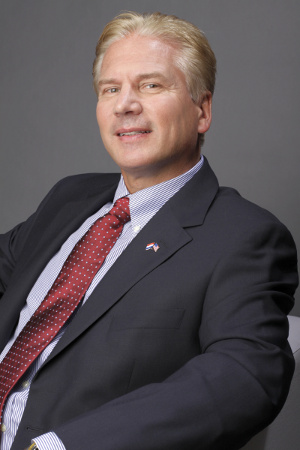 Mark has done sporadic acting and modelling in recent years
- Written by Mark from Holland.