Blog
2016-10-28 : Beijing, China - October 12 to October 19, 2016.
Boarded the Qatar Airways Boeing 777-300 and flew the first leg of the journey to Doha, Qatar (six hours). After a long walk through the brand new Doha Hamad Airport, I arrived at my second flight to Beijing (7 1/2 hours). in Beijing there were perhaps 1,000 people in front of me at passport control. Through customs, I looked for the Kras Travel representative. There were so many people holding up boards, that I missed him a few times. He was standing in the back righthand corner, the only place I didn't look. Once united with the group we took the bus ride to the luxury Nikko Century Hotel and Conference Center. I had a large buffet dinner with sumptuous amounts of seafood. For the next four days we would be picked up at 8:30 AM each morning for jaunts to The Great Wall, Ming Graves, the "Holy Way," the summer palace, and the Olympic Park which contained the famous "Bird Cage." On the last day, we visited Tiananmen Square and the Forbidden City. Meanwhile, we enjoyed tremendous Chinese feasts. All of the food was good ! On the last night, I was upgraded into an executive suite ! That left me well rested and feeling good for the last day, which was our free day. I took a taxi back to Tiananmen Square to visit the National Museum. I felt very special being there. I followed it up with some Chinese fastfood and a long taxi right back to the hotel through smoggy, crowded Beijing. The ride lasted about 45 minutes and cost the equivalent of €6,00. Our group wasn't to leave the hotel until 10:00 PM, so I took a nap in my suite, then went to the swimming pool next door and swam 1000 meters. On the flights back to Doha, Qatar and the Netherlands I slept well and also enjoyed about six movies on the video screen in front of me. Every step of the way on this trip was comfortable. It was a great investment !
2015-10-26 : Tenerife, Canary Islands - October 18 to October 25, 2016.
Flew on Corendon Airlines to La Palma on the Island of Tenerife with my girlfriend Patricia and her ten year-old son Daniel. A shuttle bus took us to our luxury resort Hotel Callao. The hotel was located a few hundred meters from the beach. It was equipped with a large swimming pool with a waterfall, a nine hole golfcourse, etc. The sumptuous dining and it's buffets were included in the price. In this week, we rented a car and visited the volcanos which were located in a beautiful national park. We also visited the famous SIAM water park. The day after we arrived home, we were itching with insect bites. The hospital in Beverwijk determined that they were bed bug bites. We're not completely certain if they were from the hotel room or the flight home. in any case, it was three or four days of misery.
2015-05-19 : Bavaria, Germany - May 3, 2015 to May 9, 2015
Took a trip to Bavaria with my girlfriend Patricia and her son Daniel in my 2012 Toyota Auris Hybrid. A couple hours out of Heemskerk and we were on the autobahn in Germany. It was a true pleasure to cruise along at 90 mph and not worry about getting a ticket. The first night we made it to the city hostel in Stuttgart perched upon the hillside. The next day we drove further to Bavaria. We found a very spacious apartment in the town of Murnau. There lived Patricia's aunt Afra, whom we spent some time with during our visit. Each night we dined on sumptuous German food. The portions were large and the prices were low, compared with the Netherlands. From Murnau we took day trips to the mountains. We also visited the Wallenberg swimming complex in Oberammergau.The waterslides were incredible ! We took a different route on the way home via Luxembourg. While there, we ate our way through the street market. The last stop of the trip was the new war museum in Bastogne, Belgium. From there we travelled four hours further north back to Heemskerk.
2015-03-18 : Moscow, Vladimir, Syzdal, Russia - March 11 to March 15, 2015
Traveled to Russia with Patricia van de Reep as part of the 20 year anniversary celebration of my radio show. I felt it fitting to visit my Russian friends from the band Romislokus. They surely helped my program become international. Especially since one of the members (Max) built my website about 12 years-ago. On this trip we were hosted by Max. It was my third trip to Russia. He organized a train trip for us to Vladimir and Syzdal. These were charming cities about two hours northeast of Moscow. We actually rode on the same tracks at the Transsiberian Railway. Mostly we ate, drank beer and visited the many churches and monestaries there. We enjoyed crisp, clear weather, perfect for photography. On Friday night, Max's friend Svetlana took us for a three hour drive around the city. A highlight was the newly built palace, made from plans of the late Catherine the Great. The beauty was overwhelming. On Saturday evening we went to central Moscow to meet up with our friends from the band Romislokus. Beforehand, we took a long walk in Gorky Park, along the Moscow River. In the evening, we had a major party. The Romislokus band toasted me with vodka on the 20th Year Anniversary of my radio show.
2014-08-17 : England & Wales - July 30 - August 13, 2014
My long time friend Alex invited me to go on a camping trip in Snowdonia National Park in Wales. A bonus was that we'd be making the trip in his luxury Saab convertible. I took him up on the offer. First, I visited my sister Millicent and her son Thomas in Pimlico, London via Easy Jet to Stansted. While there, I attended the Resonance Festival. Bands such as John Mitchell, Lifesigns, No Sound, and the Enid played in the old Bedford Hotel in Betham. It was a great, festive atmosphere. Enjoyed the pub food and beer, too. On Sunday morning, I took the train to Huntingdon near Cambridge) to meet up with Alex and his wife Sarah. Alex and I visited the American Cemetary in Cambridge. In the evening, they cooked a nice barbecue meal. The next day, Alex and I drove across England and entered Wales. We camped-out, hiked, canoed, and ate great food. We met many friendly people along the way, as well. We got back to Huntingdon the following Friday. I spent one more night there, then took the train to Penrith via Nuneaton. I arrived about 5 1/2 hours later. My musician friend Tim and his son James met me at the train station. We walked to a great pub/restaurant called Wethersppons and had two delicious fried "sharer" platters. The next day, Tim, Terri, James, and I hopped in the car and explored England's Lake District. It was beautiful, to say the least. The following day, we drove to Carlisle. There, we visited a number of Charity Shops, which seem to be very popular in this area. On the way back, we visited Wetherspoons again for another super meal. That night we had a party at Terri's farm house. Tim did his famous impersonations of a drunken Scotsman. The next morning, we were up early. They dropped off at the train station for my long journey back to Stansted Airport via Birmingham.
2014-06-11 : Montenegro & Albania - May 24 to June 8, 2014
Flew to Podgorica, Montenegro via Vienna on Austrian Airlines. Arrived in the early afternoon and picked up a Hertz Rental Car. I set the destination to Foca, Bosnia and headed north to my destination of Scepac Polje on the Bosnian border. I checked into the raft camp at a price of €12,00 per night. For that I got a small cabin. Dinner cost €7,00. The next morning a group of six of us, mostly Germans, were taken by Land Rover 18 KM up the River Tara. There we boarded our state-of-the-art raft for a wild ride through the canyon. The river was flowing fast. Great splashes of ice cold water slashed against our faces, causing us to LOL. After two days there, i set the TomTom to Skoder, Albania. The journey took about seven hours, passing through some of the most heavenly mountain scenery on the planet. I passed through many mountain tunnels on the way, some of which were dark and scarey with no lane markers. At the end of one tunnel, I saw two freshly exploded vehicles, which I had smelt from miles away. I spent the first night in Lezhe, Albania. The luxury hotel room with breakfast cost €45,00 per night. I took a long walk around the city. Although parts of it were nice, there seemed to be somewhat of a garbage disposal problem. In the morning, I headed of to Abania's capital Tirana. Driving there was difficult, as the highway was very wide, with no lane markers. I parked on the outskirts of town and walked to the center. I had a delicious Souvlaki lunch. Afterwards, I took a tour of the National Museum. In the early afternoon, I headed north back to Skoder. I checked into a five star Grand Europa Hotel at a cost of €65,00 per night, including breakfast. In the evening, I found an outdoor cafe with an excellent Albanian folk band. The band consisted of a highly spirited singer, accordianist, guitarist, and percussionist. It was quite unique and lively. I joined a group of Poles who were excavating in the town. We later joined a group of Albanians and formed a large table. We partied until about midnight. The next day, I drove to Ulcijn in the south of Montenegro via Podgorica. I passed through a couple of National Parks along the way. When I arrived at Ulcijn, I was greated my a hotel owner who offered me a place in the old town for €25,00 oer night. My bedroom window overlooked the Adriatic. As usual, I wined and dined and swam in the azure blue waters of the sea. After two days, I proceded north to Budva. There, I also found a nice hotel. The owner showed me the room and asked me how much I wanted to pay. I said, €25,00 per night and he agreed. That included breakfast. On my walk to the beach, I was approached by a Russian travel agent, who offered me a cruise boat trip around the Montenegro coast. The cost was €45,00 including an excellent fish lunch. The tour took us to Tivat, Herzeg Novi, Montenegro Riviera, etc. I was the only non Russian board out of 120 people. On the third day in Budva, I drove up a mountain to get a better view of the city. On the way, I picked up two Russian ladies who guided me to a beautiful monestery. A young Serbian man there told me about a beach place called Ploce. I took his advice and visited this magnificent seashore restaurant, swimming pool complex. I spent the last couple of days there and caught up on my swimming. I flew back to Amsterdam via Vienna. The Vienna to Amsterdam flight was cancelled. I went to the pub downstairs and ate some delicious Gulash. I watched Nadal beat Djockovich in the French Open. Flew back to Amsterdam on a Fokker 100. It was the quietist jet I've ever been on. Spoke with a Dutch lady next to me who had been traveling in South Asia for the past year.
2014-05-11 : The Cruise to the Edge - April 7 to April 12, 2014
Since I've been living in the Netherlands I've had about 35 trips back to America to visit my family. Each trip seems better than the previous one. This time, I visited my older brother Hank in Sandy Springs, GA. I rented a Chevrolet Cruise and took Hank on a good day trip to Northeastern, Georgia. The scenery was gorgeous. I also had a nice Sunday barbecue with Hank, his children and their mother. After four days, I flew to Ft. Lauderdale, my "home away from home." The next week I boarded the "Cruise to The Edge" out of Miami. We sailed to Cozumel, Mexico. Onboard there were sumptous buffets and live music by some of the World's greatest bands. I walked around the ship and casually met up with many musicians I had been listening to since my teens. Upon arrival in Cozumel, I booked a day trip to the ancient Mayan Ruins of Tulum. The sea was astoundingly crystal clear and blue there. It was a "travel high." I made many friends and memories during these five days. When I arrived back in Ft. Lauderdale, my nephew Thomas, his wife Daniella and two children were staying at the condo where I usually stay. I joined them and spent a few glorious days with them. I flew back to Pennsylvania for a wonderful Easter vacation. During that time, I met up with high school friends at the Sycamore Grill in Newtown, PA. I took a few of them to my sister's farm for an afterparty. All in all, it was a fantastic 24 days. I encountered much friendliness along the way. For that, I am most grateful.
2014-02-27 : Zondagochtendblad - Sunday, February 23, 2014
English translation of my recent "cover story," for those who have time to read it: Radio man heart and soul - written by Miriam Knopper. Circulation: 39,799. Heemskerk - "A hobby gone wild," called Mark Deren his Heemskerk FM radio program "Mark from Holland." On March 5, Deren will be celebrating the start of his 20th year "on-the-air" with a "Cruise to the Edge" from April 7 to April 12. Onboard the ship that is departing from Miami, stars from the Progressive Rock scene like YES, UK, Marillion, Steve Hackett, Queensryche, PFM, Tangerine Dream, The Pineapple Thief, and Renaissance will be performing live; many artists of which Mark has interviewed on his show. Deren, the Heemskerker, was born in the American state of Pennsylvania, where he grew up in a family of seven children. After his study of Journalism at Rider University in New Jersey, he became among other things, the photographer for portrait painter Ralph Wolfe Cowan. Together with his Dutch (ex)wife, he moved to the Netherlands in 1993. "I find Heemskerk a great place to live," said Deren, whose apartment looks out over greenery and canals. "Every weekend here, you can see live bands and that's what I like." he said. "I go to concerts in places like De Boerderij in Zoetermeer, the Paradiso and the Melkweg in Amsterdam. The Netherlands is a central location in Europe for bands." For the past 19 years, Deren has worked as a volunteer for Heemskerk FM (Radio Heemskerk). His first broadcast was on March 5, 1995. "I've made more than one thousand weekly radio shows and have interviewed hundreds of notable musicians," said Deren. His show has also gained national recognition as a result of his interviews with members and ex-members of bands such as, Supertramp, Journey, Kansas, King Crimson, Genesis, Gentle Giant, Camel, YES, E.L.P., Marillion, Fairport Convention, Renaissance, Porcupine Tree, Within Temptation, Kayak, and Focus. "I've talked with some of the World's elite musicians." smiled Deren, while showing three thick books of newspaper clippings about his show. "Now I'm friends with many famous musicians, too." he said. "In the beginning, I sent out flyers to musicians and their management. Nowadays, it's much easier to email them or send a message on Facebook." he said. "Sometimes, I pick up musicians at Schiphol Airport, provide them with accomodation for the whole weekend (at my own cost). On Sunday night, they play a private concert for me during my broadcast. It makes me feel like a "king and his court," said Mark, smiling. "For live performances, you need a good technician. My technician, Floris Tausent is very good. He gives 'service with a smile.' By the way, I'd like to mention that Heemskerk FM is looking for new volunteers." Deren interviews musicians live in the studio, on the telephone, or at concerts. Deren's favorite question is; "what was the highlight of your career up until now?" "This gets the musicians excited and brings back good memories for them." The highlight of Deren's radio career was a visit from one of his favorite singers, Richard Sinclair from Caravan and Camel, he said. The radio DJ has more passions. Deren is an enthusiastic traveller and an avid photographer. In the first 17 years, Mark worked full-time at the swimming complex De Waterakkers in Heemskerk. The former springboard diver still swims laps there regularly. "Besides that, I spend time visiting my family in America." As far as music tastes go, the radio presenter has a preference for Progressive Rock music. "I find some of the melodies in Progressive Rock very beautiful. Sometimes, they seem to be inspired by Classical and Celtic music. However, I do broadcast many other musical styles, as long as they're interesting. I have roughly 2,500 cd's. I listen to music everyday on "shuffle" and try to find good songs. That's how I make my playlists," he said. Now that Deren is starting his 20th year of broadcasting, he looks back proudly. "It's the longest I've ever done anything. I do the program without pay, but there are other rewards for my work that money can't buy. This show has changed my life," said Deren. "Mark from Holland," Sun. 9:00 PM to 11:00 PM
2014-02-26 : Switzerland - February 14 to February 21.
James Ulmer from L.A. was attending a film festival in Berlin. Afterwards, he paid a visit to me in Heemskerk. He arrived at Uitgeest on the train. The next day we drove to Amsterdam and parked the car near the Leidseplein. We explored the city, then boarded a canal boat. Afterwards, we visited the newly refurbished Rijksmuseum. It was a beautiful early spring day !! The next day we got up early and flew to Basel on Easy Jet at a cost of €44.00 each. With Swiss Passes in Hand, we got a free transfer to the hotel on the Rhine, from the airport. The highlight of our day was a visit to the art museum. We traveled south to Wengen, high in the mountains. From there we took the cog trains to Jungfraujock and Schilthorn. The weather was picture perfect. After two days in Wengen we headed for Zermatt, via Interlaken and Wisp. Our hotel suite in Zermatt had a beautiful view of the Matterhorn. We took another cog train up the mountain to do some sleighing. While sledding at a pretty high speed, I toppled and my camera smashed into my ribs. Although it was very painful, it could have been worse. On the last full day of sightseeing, we took the Glacier Express back to Wisp. There we boarded at train to Lucerne. It was yet another perfect spring day. We took a ferry ride around Lake Lucerne. The beauty was overwhelming. In the evening, I took a train back to Basel. I arrived at the airport at about 11:30 PM. I waited and slept off and on until boarding my flight at 6:50 AM. My fellow traveler James flew back to L.A. from Zurich.
2013-10-25 : London, England - October 16- 0ctober 23, 2013
Flew Easy Jet to Stansted and took a bus south to London. Spent the week at my sister's flat in Pimlico. When I arrived, I began walking from Victoria Station to Pimlico. In the pouring rain, I ran into an old friend from 28 years-ago on a street corner. We were amazed at the coincidence. Of course, we went to a few pubs that evening to discuss old times. In the daytime, I walked and visited a few of London's free museums, including The Tate Gallery, The British Museum, and the Natural History Museum. I ate my usual London treats, such as Pizza, Fish & Chips, and Steak and Kidney Pie. Took my nephew Thomas to the premiere of "Captain Phillips" and also to the Peter Gabriel concert in the 02. Both were thoroughly exciting. Flew back to Holland on the 7:00 AM flight. Excellent trip!
2013-10-09 : Morocco - September 20 - October 5, 2013.
Flew to Marrakesh with a group of Dutch tourists for a 15-day bus ride around Southern Morocco. Visited the Medina, Souk, got charmed out of money by the snake charmer, and ate sumptuous buffets. On the third day, I took a taxi out to the extreme water park "Oasiria." I came back to the hotel with a very sore neck. The extreme water slides were fierce and furious on my body. From Marrakesh, we travelled east over the beautiful Atlas Mountains. We stopped for "Tea in the Sahara." The landscapes were intense! We drove almost to the border of Algeria. To greet us were some of the largest sand dunes in the world at Merzouga. One afternoon, we drove in four-wheel drives to remote Berber tents. The area around the dunes looked like a massive, roughly paved parking lot that could hold 10 million cars. Wide open spaces abounded. We sometimes felt like we were on another planet. On the way, we stopped at exotic Kasbahs and Oasis areas. It was a photographers dreamland. The Moroccans were friendly and not too pushy about selling things. However, even when we were stopped in "the middle of nowhere" we were approached by people selling novelties. On day 12, we reached the coastal city of Essaouira. The waves there were great for bodysurfing! From there, we travelled down the coast to Agadir. The ocean looked beautiful from the road, despite the many plastic bags that often blighted the scenery.
2013-06-13 : Serbia, Bulgaria, Turkey, Greece, and Macedonia - May 24 - June 7, 2013
Took an Austrian Airways flight from Amsterdam to Belgrade, via Vienna. Checked into the luxurious Slavija Hotel after an interesting taxi ride. The driver kept claiming to have "not even one Euro." After two nights in Belgrade, I boarded the Balkan Express train to Istanbul. Lucky for me, the train had an eight hour layover in Sofia, Bulgaria. I ate my way through Sofia and visited the very impressive Natural History Museum. There were tens of thousands of animal, plant and insect species on dispay. In the afternoon, I boarded the train to Istanbul. I shared the cabin with a Swiss World Traveler. We really shared notes about how and where to travel to. In the middle of the night, we reached the Turkish Border Control. I paid a 15 Euro visa fee and was on my way. In the morning, the train passengers boarded a bus for the last 90 minutes of the journey to Istanbul. We arrived to a bustling "Old City." I took the tram to my hotel near the "Blue Mosque," It was called "Noah's Ark" Hotel. I toured the city extensively. Taksim Square was delightful! I got lost on the way back to my hotel. I had used the wrong Mosque as my landmark. I stopped in a travel agency to ask for directions. They sold me a sailing trip in the south of Turkey, gave me a beer and walked me to my hotel, as well. I was happy that I now had a plan. On the third day in Istanbul, I boarded a Turkish Airways flight to Antalya. After a long tranfer from the beautiful new airport, I arrived at the Bayram's Tree House lodges in the Olympos Archeological Park. The beach there was one of the nicest I had ever seen. That night, I enjoyed the campfire buffet and slept in my tree house room. The temperature and gentle breeze helped me sleep very well. In the morning, I boarded another taxi bus for a 90 minute ride along the azure blue coastline, to the boat. I reached the town of Olympos and boarded the sail boat with a mixed group of Indians, Canadians and one other American. Four days later, our group arrived in Fethiye, one of the World's most beautiful ports. I spent the night there in the V-Go Hotel. In the evening, I ran into some Swiss and Australian guests at the bar. In the morning, I swam across the bay with two Australian young ladies I had met. It was a good way to burn off the breakfast calories. That afternoon, I caught the ferry to Rhodes. I arrived there at night and was greeted by an old man on a scooter. He rode me on wobbley scooter throught the busy Streets to the tiny hotel in the old city. The room cost only 25 Euros per night. The next day, I explored the city. When I returned to the hotel to pick up my bags, they weren't there. A group of Syrians had taken them to search for cash. After about an hour, we located the group of destitute travelers, and recovered my bags. They had stolen nothing, but the contents therein had been hastely repacked. The leader of the group asked me if I wanted a cup of coffee !!I said, "No thanks, I gotta go! That afternoon, I walked to the ferry port to catch my ferry to Athens. I slept comfortably in the bar of the ship, on a soft couch beneath the television. In the morning, I arrived at the ferry port Pareus, near Athens. I found the train to Thessalonikki and was soon on my way back to Belgrade. The train ride lasted about 5 1/2 hours. Although, I didn't stop anywhere on the way, I did enjoy riding past the very tall, snow-covered Mt. Olympus. After arriving in Thesalonikki, I headed straight for the "Internation Trains" desk. The girl there told me that there had been no international trains for the past two years. Dissappointed, I sat down and had a large fast food hamburger meal. Afterwards, I inquired at a travel agent about catching a bus. They sent me to an address down the street where I could get a bus ticket to Skopje. What a relief that was! The four hour bus ride to Skopje, Macedonia was gorgeous. I saw many rivers and lush green mountains on the way. As luck would have it, there was also a midnight bus to Belgrade I could take to reach my Friday flight back to Amsterdam. This gave me a few hours to explore Skopje. I was very impressed with what I saw there. The city sparkled. There were many outdoor cafes, lit-up monuments and beautiful buildings. I had a delicious meal there, too. I boarded the midnight bus for Belgrade for 22 Euros and slept well during the seven hour ride. When I arrived in Belgrade, I took a taxi directly to the airport. Later in the day, I had time to visit Frankfurt, Germany's city center on a layover. In the evening, I arrived back in Amsterdam, having had a wonderful trip. The hospitality in the Balkans was second to none.
2013-02-06 : Israel and Jordan - January 24 - January 31, 2013.
I attended the vacation trade show in Utrecht this year. The Israel display really caught my eye. I wanted to visit a place where I could go snorkeling and Eilat fit the bill. The price was right, too. On Thursday, January 4, I boarded a Corendon Airlines flight to Eilat. I was already amazed before I got there. We flew over some Greek Islands, Cyprus and the Negev Desert in Israel. It looked like another planet. I was pleasantly surprised with our resort hotel called Leonardo Privilege. The buffet food was amazing! I spent the week hanging out with Dutch people. Swimming and snorkeling. Watching the sunset over the Jordanian mountains was a great way to spend the day. On Saturday, I took a day trip to Petra, Jordan. It was great to see this Enesco World Hertiage sight. The Camel riding and Arabian buffets were a highlight of the day. On Tuesday, a bunch of us boarded a bus to the Dead Sea and Jerusalem. Floating in the Dead Sea felt absolutely great. An hour or so later, we arrived in Jerusalem. Walking in the footsteps of Jesus was amazing. I couldn't have imagined a more historic place on Earth to be. After a week, I flew back to Holland. I already knew a lot of the folks on the airplane. It was one big party. The hospitality and security in Israel were impressive. I was an easy and interesting trip, for sure.
2012-09-28 : Ireland - September 7 - September 21, 2012
Met up with Hollywood reporter/author James Ulmer, whom I had met in Sarajevo. We kept in touch and decided to meet in Dublin for car trip around Ireland. What a great opportunity. James is a Harvard Graduate and highly accomplished photo journalist. It was great learning experience for me. On this trip, I was designated driver. James navigated us to the most beautiful sights on the Emerald Island. After three days in Dublin, we headed a couple of hours south to the Mount Usher Gardens in Wicklow. The foliage was lush, colorful and many shades of green. Seemed like something out of Hawaii. From there we explored the Wicklow National Park. Beautiful rugged hills and waterfalls abounded. From there to Bantry House and Gardens in County Cork. Onward to the Dingle Pennisula. Breathtaking! Speeding northward, we also explored the Connemara National Park and the charming city of Galway. We stayed at beautiful manor homes and estates along the way. The Temple House in Ballymote was amongst the most extraordinary of them all. Our rooms were as big as entire houses, for budget prices. We completed our loop around Ireland with trips to Donegal, Derry, The Giants Causeway, and Belfast. We met so many friendly people. I absolutely loved being in Ireland!
2012-01-27 : Mallorca, Spain - January 9 - 14, 2012
My friend Misha, from the Russian band Romislokus sent me a message on Facebook that he'd be vacation in Palma with his wife Tatiana and their nine-month year-old son Matvi. He invited me to join them for a few days in their hotel/apartment Fontanella on the beach. I looked up the air fares to Palma. Wow, I could fly their for 207 Euros round trip. I booked it immediately. I flew there via Barcelona. I was amazed at the very wide open, luxurious terminal they had there. The floors were so shiny, you could see yourself. Another short flight to Palma and I would soon be meeting my old friend Misha. He was there waiting for me at the airport. The sun was shining, as usual in this part of the World. We drove to the beautiful hotel. The next day, Misha and I drove to the northern tip of the Island and photographed the high sea cliffs there. The next day, we went swimming in the sea. What a sensation to swimm in 13C degree water. It sure made me feel alive and well. This week, I also took many jogs on the beach to counter the calories from the "all you can eat" buffets in the hotel. On the last day, I took Misha and Matvi to the Aquarium at Palma. I really liked the whole atmoshere of the Island, and of course the City of Palma was even more beautiful than I had imagined. I flew home on Friday morning over the snow-covered peaks of northern Spain. As we entered the Netherlands, I looked down on the Delta Works along the coast, sometimes described as the eigth wonder of the World. I ate well on this trip, as usual.
2011-09-26 : Greece - September 14 - September 22, 2011.
Having seen The Great Pyramids and the Taj Mahal, it made perfect sense to me to go and see The Acropolis. I booked a roundtrip KLM flight to Athens. I arrived there on a Wednesday afternoon and boarded the bus to the port city of Pareus. The bus ride took about one hour and cost five euros. I checked into my hotel, had a wonderful Greek dinner, then headed to the port to book a ferry to Santorini. The next morning, I enjoyed a free breakfast then boarded the fast boat. The trip took about six hours. I arrived there and saw a man holding a camping sign. Luckily, I had brought my tent and sleeping bad. I camped on the island for four days. It was perfect. The next island was Paros. I also found a good campground there. I was driven there on a scooter, back pack and all. I made friends with some other campers and had a great time. After two days there, I sailed back to Athens. I took the train to Monastrika and found a hotel with a view of the Acropolis for 35 euros per night. The next day, I bought a ticket on the tourist bus and made a couple of rounds. A highlight was a visit to the two-year old Acropolis Museum. I ate at great restaurants the entire week. My KLM flight left early on Friday morning. Despite the 24 strike in Athens, I managed to get a ride to the airport at 2:00 AM. I already want to go back !!!
2011-06-21 : Austria, Croatia, Bosnia, and Hungary - "Balkan Road Trip" - June 7 - June 22, 2011
It was time to visit my old friend and ex-colleague from Florida, John Rogers, in Austria. I flew KLM to Vienna and met my old buddy at the airport. We drove out to his country home in Haselbach, where I met his wife Doris, daughter Meagan and newborn child Josephine. They cooked me a marvelous dinner of Deer meat, rice and gravy. The next day, John took me to Vienna. We ate at a moving Sushi Bar. It was comical how much we ate in the two-hours we sat there. The next morning, I boarded a train to Split via Zagreb. The train creeked slowly through the mountains of Slovenia. I arrived late in Zagreb, where I boarded an overnight train to Split. I beautiful blonde Croatian women sat next to me. She gave me a bottle of water, as none was for sale on this old train. "Croatian won't be caught up to the west for another 50 years. I'll be two-meters under by then," she said. When I arrived in Split in the morning, I quickly saw that this part of the country had already caught up. It was beautiful and modern. A woman greeted me at the train and offered me accomodation. She took me to the "Old Town" and hooked me up with a very nice hotel room for a mear 25 euros. The next morning, I met up with my group from "The Balkan Road Trip." We assembled at the train station and were given instructions by our new guide Mustafa from Sarajevo. We boarded our luxurious Mercedes mini-bus and headed to Bosnia. We stopped for a swim at the beautiful waterfalls called Kravica. We then continued on to Mostar where we checked into a youth Hostel near the old bridge. We dined very expensively at a restaurant there. The bill, including drinks, came to only 100euros. The next day we traveled onward through beautiful mountain scenery to Sarajevo for a two night stay. On the way, we stopped and went Whitewater rafting on the Neretvi River. After three hours in the water, we enjoyed a delicious riverside buffet. Sarajevo was interesting. It's a place where church bells ring simultaneously with Moslim prayer chants. Mustafa told us all about the siege of Sarajevo from 1992 t0 1995. He had witnessed the onslaught. We also visited the spot where Austro-Hungarian Archduke Frans Ferdinand was assisinated on June 24, 1914. This triggered WW1, which caused the death of some 37.5 million people. On the first evening, we went to an old movie theater that was converted into a bar. There were people singing folk songs and drinking beer. The air was blue with smoke. Saving the best for last, we then drove across country to Dubrovnik. We stopped at an ancient town called Ston, near the coast. By this time, I had befriended one of the other guests on the trip. It was none other than James Ulmer, a journalist, film critic and producer from Hollywood. We had many laughs. In Dubrovnik, we went sea kayaking. Our boat took on water and swamped in the middle of the Dubrovnik Channel. We had to swim for at least an hour to get back to shore! On the homestretch, we got rescued by a passing motor boat. It was something to laugh about later. The next morning I caught the train back to Vienna. It was slow going through the mountains of Croatia, but extremely gorgeous. At 4:00 PM, I arrived in Zagreb. I had an hour to explore the area near the train station and have a quick dinner. The next train went a different route, this time through Hungary. I stuck my head out the train window and looked out over the farmlands of northern Croatia and southern Hungary. It was some kind of travel high!! As we entered Austria, it began to rain. I friendly Viennese man helped me find the correct train to the Vienna Airport. He even paid for my ticket and rode along with me! I arrived at the airport at midnight. I sat in the all-night cafe for about four hours, then checked-in for my return flight to Amsterdam at around 4:55 AM. I had a pleasant 90 minute flight back to Amsterdam. It was another perfect trip, which I am thankful for.
2011-04-11 : Rome and the Adriatic Coast, Italy - March 15 - March 22, 2011
"Maybe, I'll go to Amsterdam, Maybe, I'll go to Rome..." - Joni Mitchell. I caught a sunny Tuesday afternoon flight to Rome. Arrived on-time and picked up a brand new Fiat Panda at Avis. My backpack fit neatly in the trunk. I hooked up my TomTom and set off for a three hour ride to Naples. I arrived there tired, after only one Pizza stop. I felt like I had entered a road rally. I sped over very old cobblestone roads lacking lane lines. There were cars threatening me from every direction. Parking seemed impossible, so I set my TomTom for my final destination of Martina Franca and fled the city. After another couple of hours driving, I reached a roadside hotel called Mirabella. I was so relieved. I had a glass ot Twany Port at Schiphol Airport and fell asleep promptly. I awoke refreshed. Nothing like a good night's sleep and a hot shower! I drove onward past Bari, to Martina Franca. I couldn't find my toll ticket for the highway. I had stuffed in my bag by accident. I got fined 57 euros, then found the ticket later in my bag. Lesson learned. Duh! The countryside became very interesting. The houses were something out of "The Land of Grey and Pink." Richard Sinclair, the former singer from Caravan and Camel, greeted me at driveway. It was great seeing his wife Heather and him again. We talked the whole afternoon. I interviewed him for my radio show. They took me to a nice bed and breakfast where I could stay in a safe distance from their seven cats and three dogs. We then drove in Richard's Mercedes to a restaurant in a neighboring town. Richard brought his guitar and played some songs with the local musicians. We ate delicious foods and enjoyed good music. The next day he and Heather brought some breakfast. Again, Richard played songs outside in the warm Italian sunshine. We were happy and content. Another couple joined us and we headed out to the Adriatic Coast for a seafood lunch. At about 3:00 PM, I started my six hour journey back to Rome. I hit some heavy rains about two hours south of the city. For the next four days, I explored Rome. I also took a two-and-a-half hour drive to the beautiful city of Amatrice in the mountains. I rode a total of 1,800 + Kilometers in seven days.
2010-10-10 : English Translation of Mark's Cover Story in the "Kennemerland op Zondag" newspaper on 10-10-10. Circulation: 52,500
Mark from Holland calls Heemskerk home "Swimming makes you cheerful and happy." - Heemskerk - Mark C. Deren from Heemskerk has been in 50 countries, but feels at home in Heemskerk. The American has lived here since 1993, and after his trips, he likes coming home to the Ijmond. Heemskerk is a friendly place to live," said Mark. Many know this friendly American from his radio program "Mark from Holland" on Radio Heemskerk and as an employee of the swimming pool "De Waterakkers" on the Kerkweg. "I've been swimming my whole life. I could already swim when I was two-and-a-half. I'm from a family of seven kids. My parents often took the whole family to the swimming pool. It gave me a better quality of life. That I am convinced of" said Mark. I recommend to everyone to go swimming. It makes you healthy, cheerful and happy. Diplomat Mark originates from the town of Holland in the State of Pennsylvania. "Through my frequent swimming, I also came in contact with diving boards." As a teenager, I decided to become a springboard diver. That was one of the best decisions of my life. At age 17, one of the coaches gave me a scholarship. In this way, I could combine sport and study at Rider University in New Jersey. I started out as a Political Science major. I had a dream of becoming a diplomat. As a diplomat, I could travel the World and meet people. After a year, Mark traveled to Australia and New Zealand. While there, he got interested in journalism and photography. "Consequently, I ended up getting my university degree in journalism," said Mark. "This comes in handy for my radio show on Radio Heemskerk. I interview musicians from all over the World. I really enjoy it. In this way, I keep my hand in journalism." Traveling Mark came to Heemskerk via Florida and Pennsylvania. "In Florida, I worked as business manager for a well known portrait painter. I traveled in "first class" to deliver portraits and do business with "Heads of State." In this time period, Mark met his now ex-wife. In 1993, they moved to Heemskerk. "That is now 17 ½ years ago. I started working at the pool almost immediately after I arrived. This was supposed to last for a couple of weeks, but I'm still working there, and with much pleasure. It's a good atmosphere here and I'm happy that the Director Ruud de Koning gave me a chance back then. Radio Next to his passion for swimming and traveling, Mark also has a great appreciation for music. For the past 15 years, Mark has been presenting his show "Mark from Holland" on Radio Heemskerk. "Music is my big hobby," he said. I only offered to make a jingle for the station, but was quickly offered a radio show." Mark combines his radio work with foreign travel. He interviews musicians in many different countries. "In Europe, you can see fantastic bands that never reach the U.S.A. Furthermore, the Netherlands lies a bit more central in the World. From Schiphol, you can be in another country in a flash. Schiphol Airport is really nice to come home to. It's really the "middle of the World." In Heemskerk, Mark is able to combine his three big hobbies; swimming, travel and music.
2010-08-26 : Pennsylvania - August 11 - August 20, 2010
Had a wonderful visit to my family in Bucks County, PA. The weather and company were very fine. I jogged and swam between eating sessions with friends at various restaurants. I saw Megadeth and Slayer with my nephews in the Susquehana Center in Camden. That was loud, man! I went out with a couple of sets of high school friends, first to Isaac Newton's in Newtown, then to the Pineville Tavern in Pineville. The gentle rolling hills, farmlands and beautiful old homes make it one of the most scenic and historic areas in the U.S.A. It's actually where the decisive battles for independence from the British were fought.
2010-07-31 : London, England
Last Friday, July 23, 2010, I jetted over to London on KLM to attend the High Voltage Festival. I wanted to see Emerson, Lake and Palmer, who had not played live together in 14 years. I was not dissappointed. Some parts of the concert made me overjoyed. It was worth the money. While there, I visited my sister who lives in Pimlico. It was perhaps my 25th visit to London. I flew back on Monday, July 26 with a new head full of good memories.
2010-06-28 : Bucharest, Romania and the Transylvanian Alps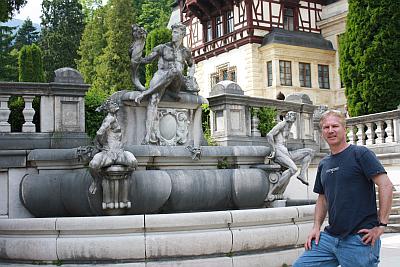 I purchased a round-trip ticket to Bucharest on my KLM Frequent Flyers miles. I was greeted at the airport by Daniel Ionati from the band Echo. We had a drink in the lounge, then I departed for points north in my new Mitubishi Colt rental car. I waited for a signal on my 42 country TomTom GPS, but it never came. I followed signs to Brasov. The road was strange. I passed by people riding in stage coaches! There were an unusual amount of dogs running across the road unleashed in front of me. There were also police in little white cars everywhere. I rode nervously. After about three hours, I was in the beautiful Carpathian Mountains in a beautiful Hotel called Silva. The next day I reached a campground and settled in for a couple of days. On the first day, I visited the famous Bram Castle; home of Dracula. On the second day, I took a long ride north to the ancient city of Sighisoara. Later in this day, I drove a couple of hours south, through the mountains to visit the Old Royal Castle at Sinaia. On the forth day of the trip, I left the mountains and headed for the Black Sea. I drove through breathtaking mountain scenery; en route to Ploiesti. I headed east for several hours, crossed the Danube River and finally arrived at the white, sandy beach in Mamaia at about 2:00 PM. On the second evening, there was a large biker festival. Loud music was blasting through my tent until 4:30 AM. On day five, I drove back to Bucharest to meet up with Echo. They treated me to dinner at a fine restaurant. On Sunday morning, they played for me live in their studio. I then flew back to Amsterdam. Total KM's driven: 1,220.
0000-00-00 : Thailand & Cambodia - October 12 to October 26, 2017
Boarded a very long Eva (Taiwan) Airlines Boeing 777-300 in Amsterdam and flew 11 hours and 10 minutes directly to Bangkok. Met up with my group of 19 members and our guide, a Thai/Indisch man called Omi. On the ride from the airport, I saw many billboards commemorating the King who had died last year at the age of 88. He had been the world's longest reining monarch. Along the way to the hotel, I saw many people living in squaller. Our group took a bicycle tour later through some of these neighborhoods. Even in somewhat squalid conditions, people had big smiles on their faces. I did some laps at our hotel pool, then dined at the top of Bangkok's highest building. We had one "all-you-can-eat" dinner after the other. We visited Bangkok's amazing riverside temples. We also took a boat ride through some of Bangkok's filthy canals. There were an amazing amount of fish and gigantic lizards swimming in the muck and debris. On the luxury bus ride southeast to Cambodia, we stopped at a magnificent waterfall along the way. I swam under the waterfall for almost an hour. The fish nibbled all of the dead flesh off of my feet. Once in Cambodia, we stopped at a couple of temples, most noteably Prasat Phnon Banon. It was a 400-step climb to the top and kids fanned me on the way up to keep me cool. I gave them each a dollar. The road to Phnom Penh was filled with shanty's and garbage. We stopped for a night in Battambang. I had a good walk around the city and got caught in a torrential downpour. The bus traveled onward. I was reminded of India where daily activity takes place right along the roadsides. We passed by many Chinese clothing factories where thousands of women work. After work get carted away, standing on trucks, like cattle. Many people were barbecuing meat and insects or selling stuff, just trying to survive another day. In Phnom Penh, we spent a morning touring the royal palace. The next stop was the Temples of Angkor Wat about 320 KM's further. Saw a young girl get chased down by a policeman for bothering our group. She fell in the dirt after her 100 meter sprint from the cop. The following afternoon, I was picked up by a local named Bunthan. He took me to the Cambodian Landmine Museum. On the way back, we got stopped at a couple of check points. It was somewhat scary. Afterwards, we had dinner with live entertainment. I couldn't eat the small pieces of chicken with bones though. It felt too strange in my mouth, especially when covered in fat. The trip was topped off with a three-day stay at the Thai Garden Resort in Pattaya. We were shuttled back to the airport on the same day that the former king was being cremated. The highway was virtually empty. Our Eva Airlines flight back to Amsterdam took 12 hours and 20 minutes. I had three seats and a video screen. I watched many great movies and TV shows. The time went quickly.