International Press Release 2018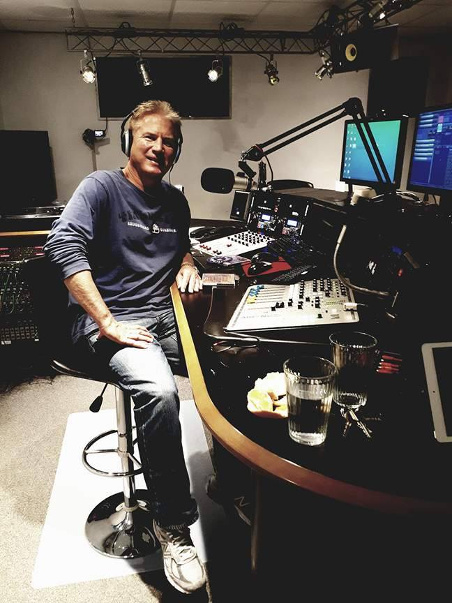 Mark from Holland in the new studio of Heemskerk FM.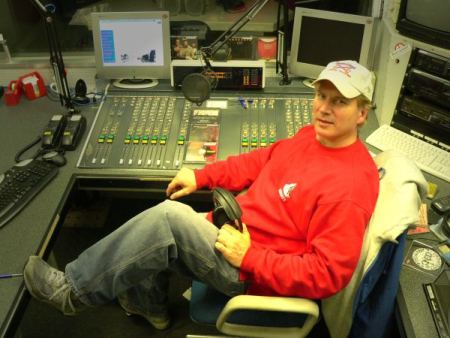 Mark from Holland makes National News.
Heemskerk, Netherlands - Radio presenter Mark C. Deren comes from Holland, PA U.S.A. (near Philadelphia). He moved to Holland, Europe 23 years ago. He went to Dutch school, learned the local lingo, and created a famous radio program called "Mark from Holland." The show began on March 5, 1995 with a live performance by former Caravan lead singer Richard Sinclair. A who's who of great musicians were to follow.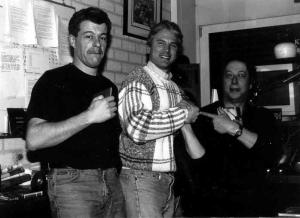 Mark learns from the pros; Fred Siebelink (left) and the late Alfred LaGarde (right).

As a result of the big name interviews, Deren was invited to perform screen tests at John de Mol Productions in Hilversum. One day he was called upon to make "voiceovers" in English for the hit television program "Starmakers." On August 23, 2000. he was featured on page 5 of Holland's largest circulation newspaper "De Telegraaf" (Circulation 850,000), in regard to his extraordinary meeting with President Sheik Zayed of the United Arab Emirates.
Mark was also interviewed about "how, when and where" he first heard the tragic news of the terrorist attacks on the WTC on 9/11/01.  His picture and story appeared on the front cover of the 9/11/06 edition of the Noordhollands Dagblad (circulation: 150,000). On November 2-3, 2005, Mark was featured on the Dutch television station RTV Noord-Holland. The five minute segment, which also featured Dutch keyboardist Ruud Jansen, was broadcast 48 times over a 24 hour period.
On March 30, 2006 Mark was interviewed by his hometown "regional" newspaper; "The Bucks County Courier Times."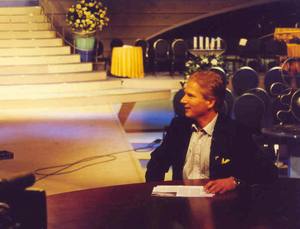 Mark performs screen tests for Dutch national television.
The popular radio program's main thrust is the so-called "Progressive Rock" but other catchy, well played and quality styles are also welcome. Other interview specials over the years include the late Peter Bardens (Camel) , Andrew Latimer (Camel), Colin Bass (Camel), Hugh Hopper & John Etheridge (Soft Machine), Phil Miller & Pip Pyle (In Cahoots), Anthony Phillips, Steve Hackett, Daryl Stuermer, & Chester Thompson (Genesis), John Wetton (King Crimson, UK, Asia), Bill Bruford (Yes, King Crimson), Carl Palmer & Keith Emerson(ELP), Peter Hammill (Van der Graaf Generator), Thijs van Leer & Jan Akkerman (Focus), Jerney Kaagman (Earth & Fire), Phil Shulman, Ray Shulman & Kerry Minnear (Gentle Giant), Simon Nicol (Fairport Convention), Rod Clements (Lindisfarne), Ray Fenwick (Spencer Davis Group), Gordon Giltrap, Sharon den Adel (Within Temptation), Martin Orford & John Jowitt (IQ & Jadis), Gary Chandler (Jadis) Clive Nolan (Arena), Nick Clemons (son of Clarence Clemons), Ian Anderson (Jethro Tull), Jean Luc-Ponty, Roger Chapman, David Duhig (Jade Warrior), Jon Anderson (YES), Roger Hodgson (Supertramp), and hundreds more (see interview section). Mark prides himself on broadcasting "high quality" musicians.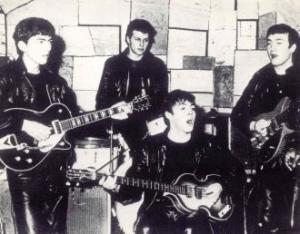 Mark discusses the Hamburg years with original Beatles drummer Pete Best.
Bands such as The Rabbit's Hat (Stone Premonitions), Tim Burness, Fantasyy Factory, The Bintangs, plus a host of local and regional bands have played live in the program. The English band "The Whisky Priests" made a cd called "Live at Radio Heemskerk" during their visit. Interview segments, plus a specially made song for Heemskerk called "This Village" were included. The performance was so beautiful; one lady spectator broke out in tears.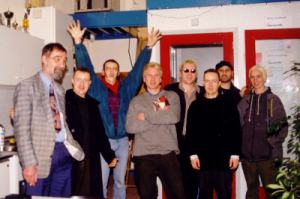 The Whisky Priests from York, England record a live cd on "Mark from Holland"
Earlier in his career, Deren worked in Palm Beach, Florida as business manager and publicist for the world famous American portrait painter Ralph Wolfe Cowan. In this position, he often had to negotiate with famous people, including heads of state! It is no wonder why he excels at arranging interviews and live performances for the radio, with some of the world's best and most beloved musicians. Due to his extensive knowledge of musicians and bands, life experiences and extensive world travels, it is easy for Mark to find common ground with virtually anyone.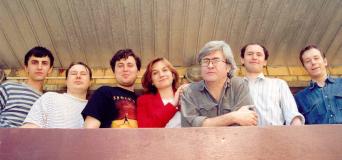 In May of 2002, Mark travelled to Moscow to interview the Russian band Romislokus: www.romislokus.com
In October of 2004, he revisted this fine group of musicians and also travelled with them by train to St. Petersburg to meet other highly skilled Russian musicians.
Mark has visited composer Pepe Maina in Milan, Italy, singer/keyboardist Parsey Herkkola in Somero, Finland, Genesis Revisited singer Nad Sylvan in Stockholm, Sweden, and the band Echo in Bucharest, Romania to name a few.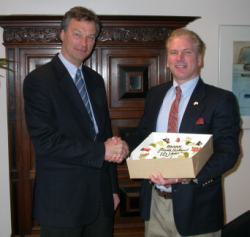 Heemskerk Burgemeester (Mayor) Bernt Schneiders personally congratulates Mark on the ten year anniversary of his program - March 5, 2005. Photo: Peter Dicker.
Through the years, Mark has appeared in Dutch TV commercials. He has also had minor roles in several Dutch TV series. In April of 2014, Mark sailed on the Cruise to the Edge to celebrate the start of his 20th year in broadcasting. His story was featured again, this time on the front page of the Zondagochtendblad. On this dream cruise aboard the MSC Divina from Miami to Cozumel, Mexico, Mark met up with many of the famous musicians that he had interviewed on his radio show. Mark is one of the two longest serving members of Radio Heemskerk, now known as Heemskerk FM. The locals refer to him jokingly as "world famous in Heemskerk."

Contact: Mark C. Deren
Email: mcd@ziggo.nl